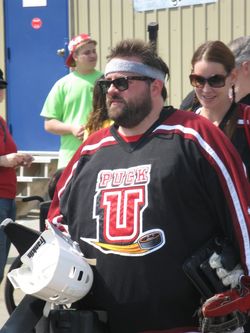 The View Askew Street Hockey League (VASHL) is an amateur street hockey league of thirteen franchised member clubs. The Walter Gretzky Cup is awarded annually to the league tournament champion at the Walter Gretzky Street Hockey Tournament held in Brantford, Ontario.
The league was organized in March of 2009 by director/filmmaker Kevin Smith. It started with four teams and, through a series of expansions, contractions, and relocations, the league is now composed of thirteen active franchises.
All of the league teams are based on references from Kevin Smith's "View Askewniverse" – a fictional universe created by Kevin Smith, featured in several of his films and other works. It is named for Smith's production company, View Askew Productions. The characters Jay and Silent Bob appear in almost all the View Askewniverse media, and characters from one story often reappear or are made reference to in others.
Near the end of 2008, Kevin became enamoured with the career of hockey player Wayne Gretzky. Watching and learning about the career of Wayne Gretzky provided Kevin with the inspiration to attend Wayne's father's street hockey tournament in Brantford. From there he called to his fans to support him at the tournament and hence the VASHL was born.
The VASHL has come a long way since Kevin posted this on his message board on March 17th, 2009.
"Christmas comes early: I will sponsor any board teams. You pick your players, your names, your jerseys, I'll pay your entrance fee.

I suggest putting together teams of 6 (four, a goalie, and an alt). The play is broken into two 15 minute periods, so one alternate should be fine. Don't know if there's even 18 eligible players on this board (and by "eligible", I mean "willing to make the trip to Brantford"), but I'll take care of up to three teams' tournament entrance fees.

C'mon, motherfuckers: you know you wanna score on me."
From there a number of fans answered Kevin's call  to come to the Walter Gretzky Street Hockey Tournament in Brantford.
We are in no way affiliated, sponsored, or endorsed by View Askew Productions, SMODCO or Kevin Smith.
Everything on this site and said on the podcasts are the opinion of those persons only, and their opinion alone. It in no way reflects the opinions of their employers, friends, concerned passers-by, or anyone else for that matter. But you're smart, you knew that already.