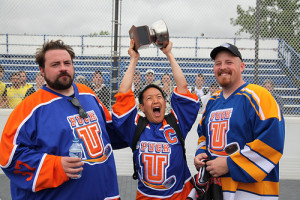 The Walter Gretzky Cup is the championship trophy awarded annually to the View Askew Street Hockey League team that places first after the conclusion of the Walter Gretzky Street Hockey Tournament held in Brantford, Ontario.
It is named in honor of Walter Gretzky.
The Walter Gretzky Cup is surrounded by numerous legends and traditions, the oldest of which is the celebratory drinking of beer or diet cola out of the cup by the winning team.
2017 Champions: Clerks

2016 Champions: Clerks

2010 Champions: Puck U